We Believe In Camp… And We Did The Research!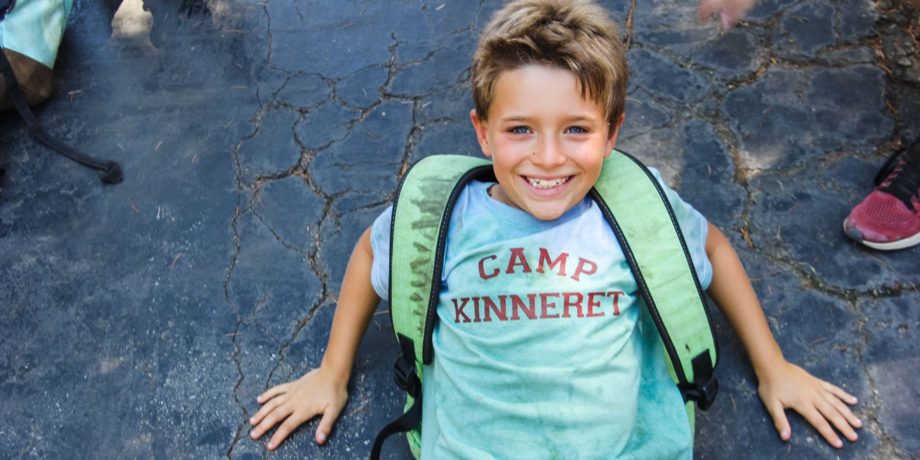 Welcome to our camp research blog! Whether you are a Camp Kinneret family stopping by for camp updates, a prospective family searching for the right fit for your summer, or a camp staff member or alumnus, we hope that you will enjoy reading about our recent adventures researching what makes camp so special. And don't worry… The idea of reading about research in your spare time may sound dry or daunting, but we'll do our best to follow our most important camp rule: have fun!
To kick things off, this first blog post will give a brief overview of a research project we participated in during the summer of 2017. Guided by Challenge Success, an education research organization affiliated with the Graduate School of Education at Stanford University, we've spent the past 10 months collecting and interpreting data about what camp does and why it matters. Here's a quick recap:
Why did we want to research summer camp?
We have long believed that camp holds a special sort of magic- that a summer at camp can be transformative, and that a carefully crafted, child-centered camp program can provide opportunities for significant camper growth. Yet despite a lot of talk about the "magic" of camp, our campers, counselors, and families sometimes have a hard time explaining just what makes the experience so special. So when we were offered a chance to participate in Challenge Success's research on the learning benefits accrued from time spent at camp, we jumped at the chance.
What is Challenge Success and what are they researching?
Challenge Success is run by a team of experts in child and adolescent well-being based out of Stanford University. It is a research-based organization that develops practical programs for parents, schools, community organizations, and kids looking for a healthier and more effective path to success in the 21st century. To read more about their mission and vision, visit their website.
Challenge Success engages in research in numerous spaces pertaining to education and child development. This research includes the research-practice partnership with summer camps that we participated in last summer. Specifically, this particular study was designed to examine the ways in which camp is a learning environment that provides kids with opportunities to practice and develop social and emotional learning (SEL) skills.
Much of the description above comes from Challenge Success's own research blog entry on their camp study, which you can read here.
How did we conduct the research?
The short answer: with a lot of hard work, time, and the crucial knowledge and support that Challenge Success provided! For a briefer, more visual overview, click here to view our infographic – for those of you curious about the nitty-gritty details, we've provided more information below.
The long answer: We collected data in the summer of 2017 from 4 different sources…
Camper surveys were completed by entering fourth through ninth graders at the end of whichever session(s) they attended. Survey questions were focused on campers' experiences during their time at camp, including sense of safety and belonging, engagement, and opportunities to build on SEL skills and competencies, including initiative, teamwork and collaboration, emotional management, responsibility and independence, and social skills.
Counselor surveys were filled out by all counselors of entering first through ninth grade groups at the end of each session. Counselors completed a survey for each camper in their group, answering a series of questions about their campers based on their observations and covering the same basic content as the camper survey.
Parent surveys were available online to parents of entering first through ninth graders when the summer concluded. Parents were asked to share observations about their child's (or children's) experience at camp.
Activity observations were conducted by members of camp's leadership team and by members of the Challenge Success team. Observations included transportation times, assembly times, and a broad range of camp activities. An observation form was completed for each activity and focused on assessing camper safety, inclusion, engagement, as well as opportunities to build SEL skills and competencies.
Challenge Success researchers then spent the fall aggregating and analyzing the date, providing camp with a full report at the start of 2018.
Who is this research for?
This research is for anyone who has a stake in camp – from camp families, to camp staff, to the campers themselves. We want everyone involved to understand what camp can do for our kids. We also want to use this research to reflect on our own program and practices so that we can provide the best, most rewarding camp experience possible.
What did we learn?
Now that is a very long answer… And what this blog is all about! We will be presenting the knowledge gained from this research through a series of blog posts as we build toward summer 2018. We'll have two types of posts – Data Debriefs, which will talk about the project's findings in a more researcher-y way, and Beyond the Data posts, which will share stories about the little, everyday moments that help campers learn and grow.
Thanks for reading, and we hope you come back soon – we're excited to share what we've learned!
Back to blog