Swimming
Fun in the Sun
Swimming in our 30 yard heated pool is the highlight of every camp day! Whether our campers are getting comfortable putting their head underwater, learning different swimming strokes, or mastering their diving skills, they look forward to swimming with their group and counselor each day.
Not Just A Regular Dip in the Pool
Swimming at Camp Kinneret is a safe and meaningful experience
The 35-40 minute swim period is divided into a group lesson and free swim time.
Campers are given the opportunity to develop and perfect their swimming skills and build confidence throughout the summer.
All camp staff are in the pool swimming with their campers to create fun experiences as well as provide hands-on supervision.
Our team of at least 4 (typically 5) certified lifeguards individually assess each camper's swimming abilities and indicates their level of safety with one of our three colored wristbands.
This wristband system allows all lifeguards and counselors to immediately identify each camper's swimming ability and the appropriate and safe areas of the pool for each camper at all times.
Many campers start camp as non-swimmers and advance their swimming skills and confidence in our fun, safe, encouraging swim environment.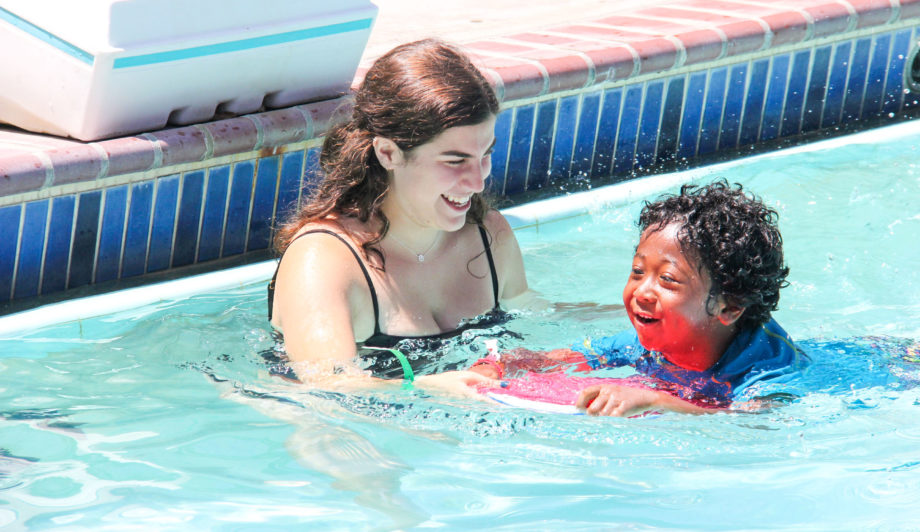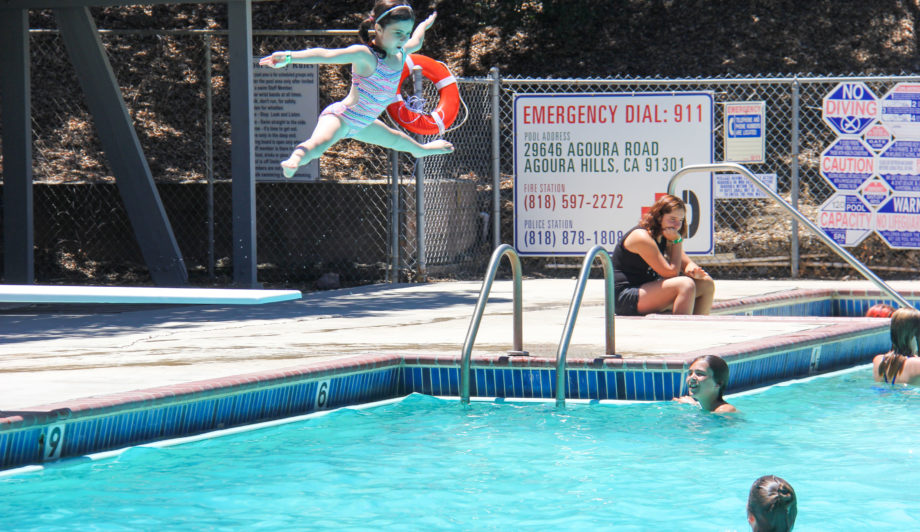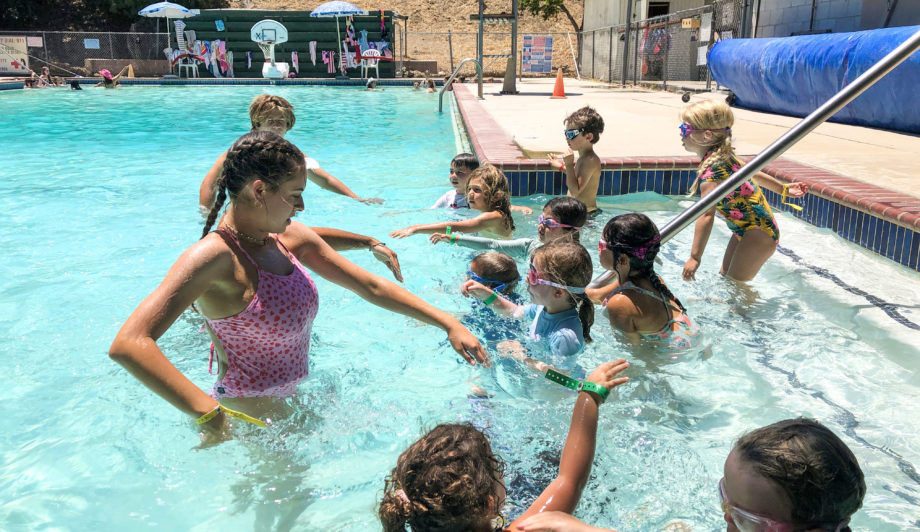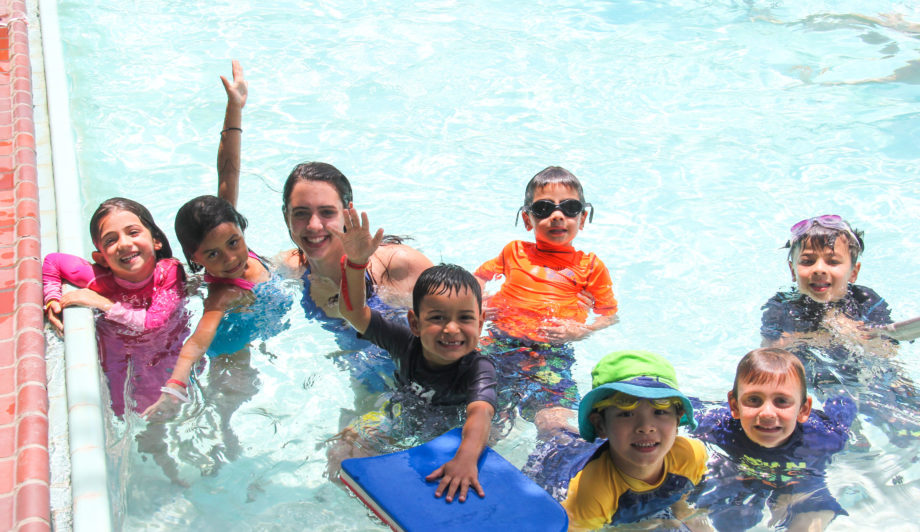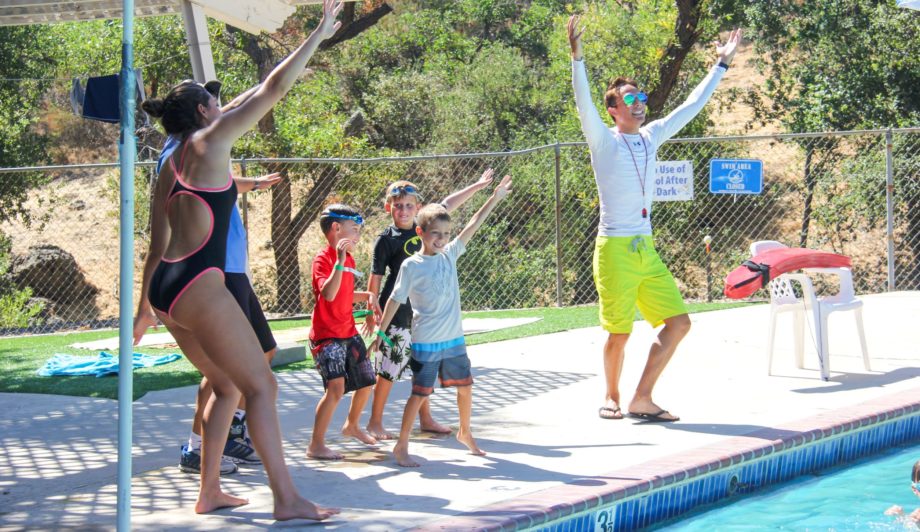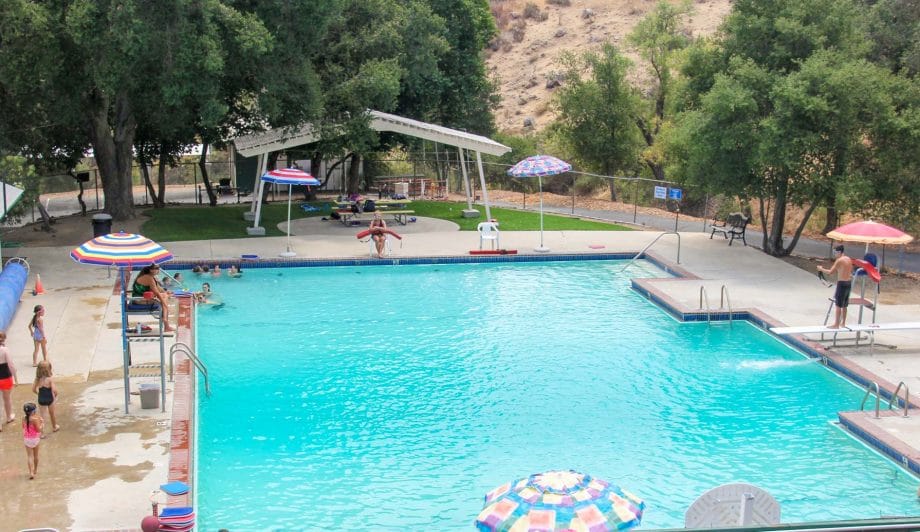 Frequently Asked Questions Regarding Swimming
What if my child is not water safe?
All campers will be evaluated by a lifeguard on their first day of camp, and will receive a Red, Yellow or Green wristband. If it is determined that they are not yet water safe, they will receive a Red wristband. Each day, before their group enters the pool area, their counselor will refer to the evaluation list and put the appropriate wristband on each of their campers. Once in the pool area, the group will be directed to a specific corner for their group lesson. With the assistance of the group's staff members, the lifeguard will lead the group in a level appropriate swim lesson. During the free swim portion of the swim period, all swimmers with a Red wristband will be directed to one of 2 corners of the pool where a lifeguard is positioned. During free swim, the counselors and CILTs will play with the non swimming campers on the stairs and in the shallow ends to help ensure a positive pool experience.
What if my child needs help putting on sunscreen? Putting on their swim suit?
During our week of Staff Orientation, we cover topics such as assisting with bathing suits and applying sunscreen to ensure the safety of our campers and of our staff. When assistance is needed with a bathing suit, our staff know they need to be sure there are plenty of other campers and if possible another staff person around. When applying sunscreen, groups apply sunscreen while waiting to enter the pool area after they have changed. Counselors will apply the appropriate amount and ask the camper to rub it in on their bodies. The staff will apply the appropriate amount to their faces to reduce the chances of sunscreen getting in the campers eyes.
Do parents need to provide sunscreen?
Camp Kinneret is proud to provide Rocky Mountain Sunscreen for our campers and staff throughout the site. However, some parents have determined that their child needs a special brand of sunscreen. In these situations, we encourage families to send the sunscreen to camp as a medication so that it lives in the first aid office, and the counselor is aware of the special sunscreen for each camper.
How often is sunscreen applied?
Camp Kinneret has sunscreen stations throughout camp and counselors are encouraged to re-apply as necessary. Typically, counselors will apply sunscreen to campers before and after their swim period but may apply additional sunscreen if needed.
Do you offer swim lessons?
The swim period is divided in half, with the first part being a group swim lesson while the second half of each swim period is free swim. Occasionally, the swim staff will plan a special day in the pool where they will have a specific activity to do during the swim lesson portion of the period.