Before Camp
Camp is Starting Soon!
As we approach the start of camp, we know that you will have many questions. You will receive a pre-camp information booklet prior to camp to help you prepare. It will have all the information below and much more!

What to send and wear to camp each day
Lunch in a bag (please NO lunch boxes or coolers) labeled with your camper's name (we provide milk and water). Each camper will receive a reusable Camp Kinneret lunch bag on their first day of camp! Lunches are refrigerated until lunch time.
A bathing suit and towel in a backpack or other non-paper bag.
Wear sneakers (no sandals, Crocs, Keen sandals, sport sandals, or any other shoe that has open toes, heels, or sides) and clothes that can get dirty!
For younger campers we suggest packing an extra pair of underwear, socks and shorts in a zip lock bag (labeled with their name) to be kept in their bag throughout the summer just in case!
For a list of things your camper should not bring to camp, please make sure to read the full pre-camp information packet!
A water bottle with the child's name clearly written on it in permanent marker.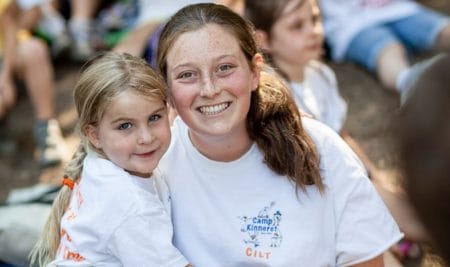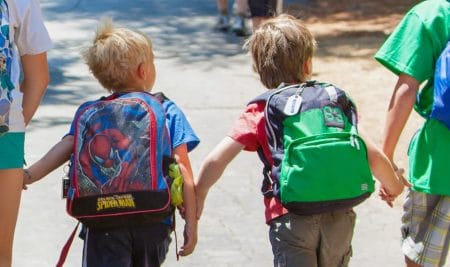 Answers to a few commonly asked grouping questions
Wondering who your child's counselor will be?
We intentionally don't make final decisions on which counselor will work with which group until the week prior to camp. Why? We take advantage of our Staff Orientation week to really get to know our staff. That way we can match each counselor with the group that will best fit their strengths, skills, and personality.
Wondering about your friend request?
Rest assured that your child has been grouped with their first friend request as long as both families applied prior to May 1 (and unless we have notified you otherwise). For families who apply after May 1, we do our utmost to consider first friend requests but as summer approaches certain groups may have filled to capacity.
Wondering who else is in your child's group?
Beyond the first friend request, we cannot say with certainty who else will be in your child's group until camp begins because as new applications come in we are constantly filling and rearranging groups. Every group is a carefully constructed puzzle, and we only have so many spaces for each day combination in each group.
Do you have transportation, scheduling, or camp day questions or concerns?
Please contact us now so we can talk through your concerns and answer your questions!