New to Kinneret
Who We Are
Welcome to Camp Kinneret! We are a summer day camp that prides itself on creating a supportive environment for our campers and staff. We call ourselves a child-centered program, meaning that our attitude and approach to everything we do at camp focus on creating a warm, welcoming atmosphere where individuals can be themselves without fear of judgment and where every person belongs. The growth we see would not be possible without dedicated, caring individuals like you who want to make a difference in young people's lives. We invite you to explore what Kinneret has to offer to make sure that we're a great fit for you!

Why Work at Camp Kinneret?
Here at Kinneret, we offer a lot of the classics. We play gaga and shoot arrows at archery. We learn to ride ponies and go on hikes (to the Lemonade Tower!). We sing songs and play field games, but the thing that sets us apart from other camps is our dedicated focus on developing a growth mindset for our campers and staff. We believe that our campers and staff have a lot of potential – already great at some skills, with opportunities here to work on improving others. We aim to create a welcoming environment for our staff and campers that allows them to push themselves outside of their comfort zones, try new things, and learn to succeed as well as struggle. If you're looking for a job where you can grow as a communicator, a mentor, a problem-solver, and a leader, while having lots of fun, then Kinneret is the place for you!
We're Committed to Camper Growth (How We Help You Help Campers)
Camp is a valuable opportunity to coach campers on critical life skills. Here at Kinneret, we strive to nurture five themes of life skills (referred to as the Kinneret Roots) through our program: Independence, Teamwork, Creativity, Friendship, and Community. As the summer progresses we focus on finding creative ways to instill these skills and values in our campers through play and fun.

We keep our camp groups small on purpose. You will have 10 – 15 campers a day, and at least one high schooler in training or a co-counselor with you and your group throughout the summer. Our small group sizes and teams of counselors and high schoolers ensure that each of our staff members finds moments to connect with each of their campers on a deeper level.

Our 4- and 5- week session structure allows you to get to know campers over an extended, consistent period of time, which gives you more time to connect with and facilitate growth in your campers.
We're Committed to Staff Development (How We Help You Grow)
Staff attend 5 days of orientation, receiving training in team building, conflict resolution, group management, creative problem-solving, and much more. We believe in active learning, and provide our staff with multiple hands-on opportunities to practice as they learn throughout the orientation program.

Our staff attend weekly meetings to receive on-the-job training and ongoing education.

Staff receive friendly one-on-one support from a Leadership Team member, who's there to guide them as they set goals, overcome challenges, and develop skills. We emphasize this relationship as a partnership – Leadership Team members are there to help you in any way you need.
Build a 21st Century Resume by Working at Camp
The Partnership for 21st-Century Learning has identified the 4 skills (or the 4 Cs) that today's employers believe are most crucial to success in the workforce: Communication, Critical Thinking, Creativity, and Collaboration. Camp work requires you to use and hone each of these skills every single day, all while enjoying a job that gets you outside, gets you laughing and playing, and turns you into a role model for children.
Here is just a sampling of the roles you'll practice this summer that will help you develop your 4 Cs:
Good communicator

– Our staff members are communicating and learning to connect with people across all age ranges on a daily basis.

Life-long learner

– Our staff members embrace a growth mindset. They know that there's always room to learn more and

improve, and they are prepared for any challenges that come their way.

Community player

– Sometimes our staff members are bombarded with what feels like a million challenges all at once. Staff and the Leadership Team members work together daily to overcome problems, develop new ideas, and best support our campers. Our staff members use their resources like Leadership Team members and fellow staff members to problem solve together and come out stronger.

Creative thinker

– Our staff members love to add twists to old games and activities to make them new, fresh, and engaging. They learn how to plan out a creative schedule and to think on the fly when things don't go as planned!

Detail-oriented worker

– Our staff members are in charge of a group of campers with different needs, interests, and abilities. Our small group sizes allow them to get to know their campers on a deep level and notice when they're not their usual selves. They watch for little cues and changes in their faces, paying close attention to the details!

Leader

– Our staff members are responsible for young people, meaning they must practice being responsible leaders that their campers can lean on.

Problem solver

– Staff members are always problem-solving ways to help their campers grow. What might you do if a camper has a hard time when they lose a game? How about shifting the game's focus to promote recognition of good sportsmanship rather than winning? Staff members develop the skills they need to efficiently resolve problems expanding their skills and demonstrating problem-solving techniques for their campers.
Kinneret Staff Positions
At Kinneret, we have two broad themes of staff members: group counselors and specialists. Group counselors spend their whole summer with one group of campers, lead the day and facilitate activities for their group, and work with their Leadership Team member to create a memorable summer for their campers. Specialists spend their summer at an activity (like Ponies or Arts and Crafts), spending time with many different groups each day, and introducing campers to new interests through play-based projects and hands-on learning opportunities. You can learn more about Kinneret's staff positions here!
How to Apply
Tips and Tricks for Submitting a Successful Application – Click to Scroll Through!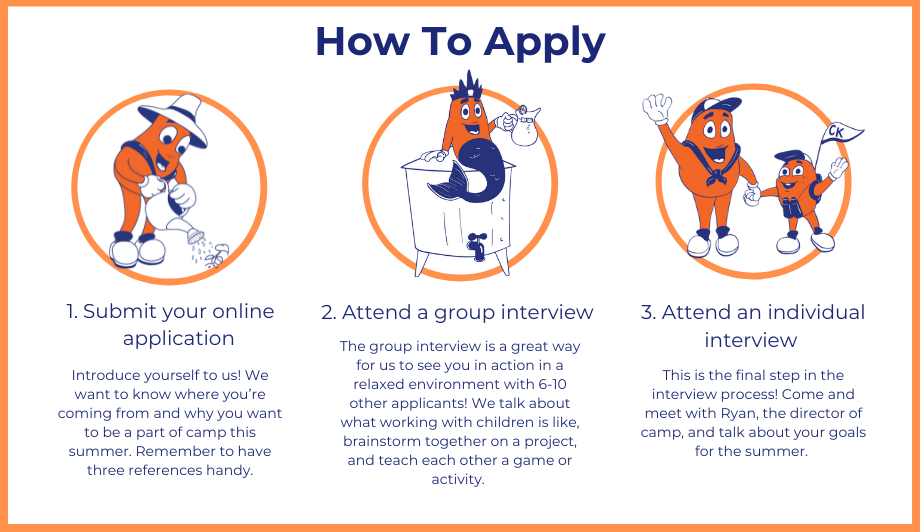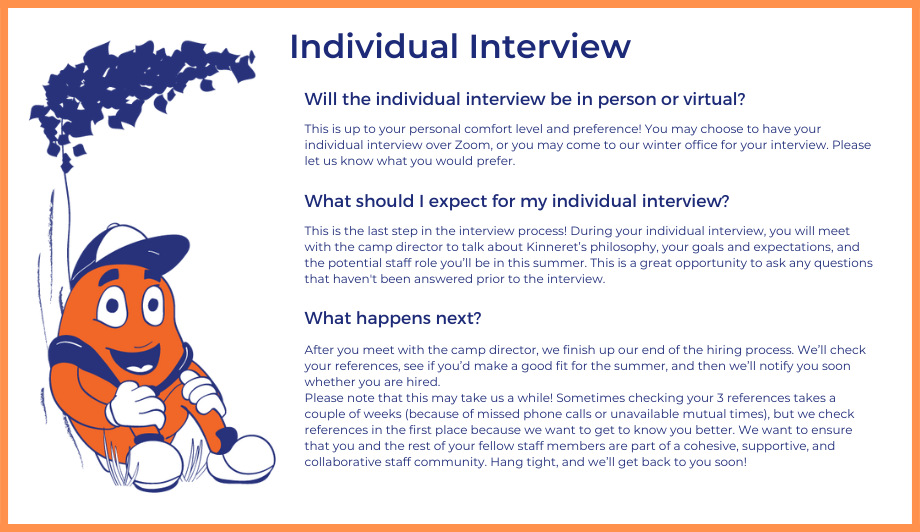 FAQs
What are three words to describe what Camp Kinneret is like?
Caring, growth-minded, and supportive!
I noticed that Camp Kinneret offers longer sessions than some of the other camps in the area. What's special about having 4- and 5- week sessions?
Our campers enroll in camp for a whole 4- or 5-week session (or both!), which means that they get to spend a lot of time with their counselors and group. As a staff member, you get the opportunity to really know your campers because you spend a lot of quality time together. You learn about their favorite hobbies and animals, but also what makes them laugh and what fears their hoping to overcome this summer. These long-term connections last beyond a summer as campers grow alongside you at camp with each passing year and reminisce about the fun times they had and the lasting memories from their time spent with you.
What's the staff culture like at Camp Kinneret?
Our staff are really proud of the caring, engaging, and supportive environment they get to work in during the summer! They are ready to help each other overcome obstacles, hype one another up in friendly singing competitions, and create a wholesome experience for their campers as well as each other.
We are in the heart of Agoura Hills, located at 29646 Agoura Rd, Agoura Hills, CA 91301.
Even though we share our address with the Gateway Church, we are not affiliated with the church and lease the site from them. Camp Kinneret is a non-religiously affiliated program.
Does Camp Kinneret provide housing for camp staff?
Our camp is a day camp, which means that all staff and campers go home at the end of the day. We are unable to provide housing for our staff, and our staff members must be able to arrange their own summer housing. If you live within 30 minutes of any of our bus pick-up points (listed in our transportation section), you are close enough to work with us.
Do I have to drive to Agoura every day?
No!
Even though our camp is in Agoura Hills, we get staff and campers from all over the Conejo and San Fernando Valleys and the greater Los Angeles area! Many of our campers and staff do not drive all the way to camp every day, and most of our camp families and staff participate in Kinneret's transportation program
.
Kinneret's buses run in Studio City, Sherman Oaks, Encino, Tarzana, Woodland Hills, West Hills, Calabasas, Agoura, Oak Park, Westlake, Thousand Oaks, Newbury Park, Simi Valley, and Moorpark.
If you join our bus staff team (as most staff members do), then a part of your job is to ride the bus to and from camp every day, making the bus experience fun and engaging for all. So your camp day will actually start much closer to home and your commute will be part of your work day!
I am an international applicant. Can I still apply?
If you have a local place that you can stay during our summer season, then absolutely. Unfortunately, we don't have any housing opportunities on our site.
What is the time commitment for the summer?
All staff members attend a mandatory staff training from June 12 – 16. Kinneret's 5-week session runs from June 19 – July 21, and then our 4-week session runs from July 24 – August 18. Check out the staff calendar
here
for more details!
Camp is a full ten-week commitment. Missing time is difficult to accommodate and must be approved in advance. Contact us today if you are concerned about potential schedule conflicts.
What does the typical day at camp look like?
Camp staff work approximately 8:30 a.m. to 4:30 p.m. Monday – Friday, and we have 8 activities scheduled for every day in camp. Two of these activities are swim and lunch, and the other 6 change daily and rotate between active and creative play, adventure, and arts and nature. You can check out the activities we offer here. No two days at Kinneret are ever the same!
Here's a sample schedule of what your day could look like.
| Time | Activity |
| --- | --- |
| 9:20am | Bus Arrival |
| 9:35am | Good Morning Mountain (morning assembly) |
| 9:50am | Building Blocks (and morning snack) |
| 10:30am | Ponies |
| 11:05am | Paddleboats |
| 11:40am | Lunch |
| 12:15pm | Arts & Crafts |
| 12:55pm | Swimming |
| 1:30pm | Animal Care |
| 2:05pm | Performing Arts |
| 2:40pm | Juice Bars |
| 2:55pm | Friendship Hill (end of day assembly) |
| 3:20pm | Dismissal to Buses |
What's the Leadership Team for?
The Leadership Team is built of 5-7 camp professionals and educators who are there to support counselors and their groups to make the most of their summers. Your Leadership Team member will encourage you to set and accomplish your goals toward becoming a better leader, help you with any challenges you may encounter, and most importantly, come hang out and play with your group.
How much do staff members earn over the summer?
Salaries vary, depending upon position. The range for first-year staff with no previous experience is generally between
$5300 – $7000+
for the summer. Those with previous experience or filling area lead positions may earn more.
I'm ready to apply! What's next?
The 2023 summer staff application is now open!
Click "Join Our Staff" at the bottom of the page to apply.
Each new applicant will attend a group interview. While filling out your application please select a date and time that works best for your schedule. If none of these dates work, please let us know (info@workatcamp.com).
Our group interview dates are:
Thursday, January 19 @ 4:00 p.m. (virtual)
Wednesday, February 1 @ 4:00 p.m. (virtual)
Sunday, February 12 @ 9:00 a.m. (virtual)
Are you looking for a part-time position working with children during the school year? Growing Outdoors & Developing Outdoors are currently operating before and after-school programs in the Agoura Hills, Oak Park, Westlake, and Thousand Oaks areas. Click below to find out more.