Beyond The Data: Doodlebugs, Watermelon Warriors, and Time-Traveling Pirates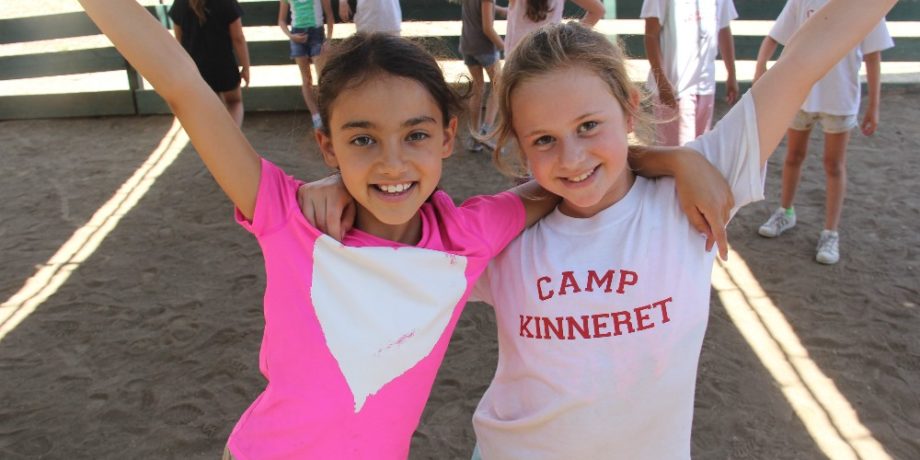 Camp can be hard to sum up, even for researchers. So many of the wonderful, valuable moments that happen at camp are hard to quantify or even photograph – blink and you'll miss them. Data and still images can't always capture the meaningful words in a counselor-camper exchange or the pure joy and accomplishment of a child hitting the archery bullseye after countless tries.
That's why we're introducing Beyond The Data posts – to share stories with you about what happens at camp and what it means to us.
A few summers back I was walking through camp and I passed by our gaga pits. If your child has been to Camp Kinneret before you've probably heard about gaga – for those of you who are new to camp or need a gaga refresher, gaga is a a game we play all the time. All you need is some low walls or fencing, any kind of flat surface (we use good ol' dirt), and a ball. In the most basic version of gaga, players use an open hand to hit the ball towards one another. If the ball hits you in the knees or below, you're out for the round. But here's the great thing about gaga: there are countless ways to play, and campers and staff are constantly making up new variations.
So I wasn't surprised when I walked by and heard a counselor announcing that the group, made up of 2nd grade girls, was going to try out a new version of gaga that day. But what I heard next caught my attention. The counselor explained that they were going to play "Compliment Gaga." The rules? If you got hit in the knees or below, you could save yourself from being out by giving a compliment to the person who had hit the ball at you. Then I heard her tell the group that this was a special way to play gaga, just for the girls of RAOK. I knew that RAOK was this group's chosen name, and I glanced down at my clipboard and smiled when I saw what it stood for: Random Acts of Kindness.
Here at Camp Kinneret, every group has their own special group theme each session (and a name that goes along with it). With their group theme as their guide, campers have a chance make the camp experience their own. They get to take pride in their group, in their shared jokes and adventures. Group themes help transform a group of campers who are meeting for the first time into a community. They give campers a sense of belonging and identity at camp – even our pre-K campers can tell you if they're a Very Hungry Caterpillar or a Balloon Animal Buddy. And group themes are a big part of what makes camp fun and memorable. They can be wacky or whimsical, inventive or imaginative, or just plain silly. At camp, every group you meet is something new; you can color with the Doodlebugs or go on a treasure hunt with the Time Traveling Pirates. You can laugh with the Totally Hilarious & Hip Emus or get live updates from the Friendly Unicorn Newsies. You can even shake hands with the Respectful Turquoise Liopleurodons. (At this point, you might be asking what a liopleurodon is. Well, according to some very wise first grade campers, it's not quite a dinosaur, it lives in the ocean, and it swims well enough to earn a green wristband at the pool).
Group themes also play a big part in how we facilitate social-emotional learning (SEL) throughout the summer. Remember those SEL constructs we wrote about a few posts ago? Group themes are one of the ways we foster SEL constructs like voice and choice, independence, and social skills. Here's a snapshot of three recent camp groups and their SEL-driven group themes:
The Storybook Buddies (co-ed, entering kindergarten)…
The Storybook Buddies were all about imagination, creativity, and working together as a group. Every day they would find a few minutes to sit in a shady spot and add to their group story. This took a few days to get used to, but before long the campers learned to listen to each other and take turns speaking. Their counselor wrote down each of their ideas on her clipboard. By the end, it was quite a story – it had a Great Kinneret River, friendly ninjas who loved the camp high ropes course, and several lost dragons. The last week of the session, the counselor made a copy for each camper and the group spent their last Arts & Crafts session adding illustrations to their booklets. Then they took their stories home to share.
Relevant SEL constructs: voice & choice, affective engagement, teamwork & collaboration, emotional management, social skills.
The Questioneers (boys, entering 3rd grade)…
The Questioneers grew famous around camp for their question-of-the-day. It could be a philosophical query (why is the sky so blue today?), a survey of opinion (who makes the best fast food fries?), or a real-life conundrum (what should our counselor name his dog?). Whenever the Questioneers crossed paths with another group, entered a specialist's area, or bumped into a leadership team member they would ask the question-of-the day. During lunch or juice bars, each camper would weigh in with his own answer. Then, at Friendship Hill (afternoon assembly), the group would use their daily riddle cheer to ask their question to all of camp at once.
Relevant SEL constructs: initiative, independence, voice & choice, affective engagement, teamwork and collaboration, social skills.
The Watermelon Warrior Girls (girls, entering 4th and 5th grade)…
Campers often suggest and then vote on their group themes during the first few days of a session. When the Watermelon Warrior Girls set out to come up with their group theme, they struggled initially. The group had a wide range of personalities and interests, and they were having trouble agreeing on a theme that everyone liked. Rather than solve the problem for them or pick a theme without their input, the counselor used the opportunity to facilitate a group dialogue about difference and respect. Using that discussion as a foundation, the group elected to become the Watermelon Warrior Girls. They explained that they chose the name because some of them were sweet, and some of them were strong, and they could learn from each other how to be both.
Relevant SEL constructs: meeting emotional needs, social skills, responsibility, teamwork & collaboration, voice & choice, independence.
What was the key factor uniting all of the stories highlighted in this post? Our exceptional staff. In each case, counselors used group themes for more than just surface fun. They facilitated deeper learning in ways that were age-appropriate and tailored to the specific makeup and needs of the group. We say it a lot, but we say it because it's true: our staff make all the difference.
We hope this post has helped provide a little more insight on how camp's culture and everyday practices, like group themes, provide opportunities for camper growth. Thanks for reading!
Back to blog