Water Bottle
In an effort to reduce the number of disposable plastic water bottles thrown away at camp each summer, we are once again providing you with the opportunity to purchase a Camp Kinneret water bottle. This summer we are offering two bottle options: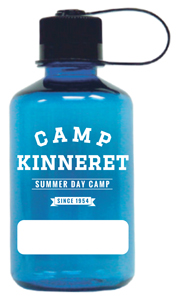 Our classic blue Nalgene-designed bottle is BPA-free and durable. It holds 16 oz of water and has an attached twist top to cover the drinking spout. This bottle is available for $11.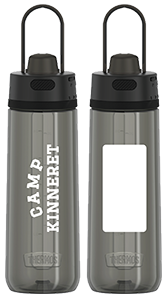 Our grey Thermos brand bottle is BPA-free, and durable. It holds 24 oz of water, has an attached pop top to cover the drinking spout in addition to being able to fully remove the top for cleaning or adding ice. This bottle is only available while supplies last, for $17.
---
To purchase a bottle, please select your choice on the health form and the charge will be added to your account. We will process that amount on the credit card, debit card, or bank account we have on file for your family that was used most recently. The bottle will be delivered to your camper on their first day of camp, labelled with their name!
If you would like to purchase additional bottles, please call the office or visit our camp gear page