Sending An Epi or Auvi-Q to Camp
If your camper has a prescribed EpiPen/Auvi-Q, we must have the full prescription (usually 2 units) on hand in camp.
In the space provided on the health form, please describe the condition for which your child may require the EpiPen/Auvi-Q.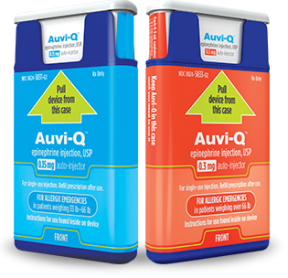 In order for us to have an EpiPen/Auvi-Q (and all other prescribed medication) at camp for your child, we require that it come with a copy of the written prescription or prescription label. We have found that the easiest way to do this for EpiPens/Auvi-Qs is to ask your pharmacist to label not only the box in which they are sold, but also each individual pen container. Most pharmacists are happy to do this when they understand that they are being sent to school or camp.
On your camper's first day of camp, please give the EpiPen/Auvi-Q to a bus counselor or to a staff member at camp sign-in in the morning. Alternately, you may choose to deliver it to the camp office during the week prior to your child's first day of camp. All medications are stored in the camp office throughout the session and returned on the last day of camp.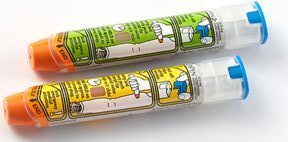 The camp office is within 2 minutes of any other location in camp. All counselors who have a camper with an EpiPen or Auvi-Q in their group are trained in the use of that device prior to the first day of camp.
In rare cases, it is sometimes necessary for a child to have an EpiPen/Auvi-Q with them while riding the bus to and from camp. If you believe this applies to your child, please call the office to speak with a director: (818) 706-8255 / (805) 523-7711. Should this be necessary, we will require that an additional EpiPen/Auvi-Q prescription (2 units) be used for this purpose. The director will be able to discuss these and any other details with you.